The growing use of smart devices has made developing an enterprise app a strategy that can bring great benefits to the business.
As a software development company, it is clear to us that adaptation to the mobile environment is necessary if we want to adjust to the new habits of users.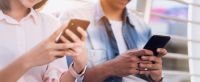 SEDUCA provides 3 applications developed for mobile or smart devices, which have no cost for community members, each one oriented to the 4 main types of users: Parents, Teachers, Students and School Transportation.
One of the functionalities of the applications is to receive all the notifications coming from the different areas of the platform.
The applications can be downloaded from Google play store or apple store.